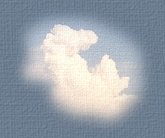 Morning Thoughts
I'm grateful for this golden day
and the blessings that come my way.
My friends at work, my friends online
the friends I've had through endless time.
Sisters, brothers, forever friends
children, grandchildren, love without end.
In many ways I've been blessed
sometimes forgotten, I must confess.
The sun in the morning, the moon at night
given to me through the gift of sight.
The beautiful sounds that I hear
the gift of strength to live without fear.
With feelings deep, I sit and write
a gift on long and lonely nights.
I walk on beaches and wooded trails
to foreign shores I can sail.
So many dreams have come true
my spirit lifted, my faith renewed
I've traveled the world, experienced things
my soul's been touched, my heart sings.
I'm grateful for life, there's much to do
places to go, goals brand new.
But of all the gifts given to me
it's the gift of health that lets me be.
© JackiePA@aol.com
May 30, 2002
Used with authors permission
Email Author