THE CONNECTION

Eons ago, a master force
set us on a sacred course,
A giant explosion, time began
long before the creation of man.

The moon and stars and blazing sun
came from energy masterfully done,
All matter created during universe birth
is also contained on planet earth.

We share a connection, you and me
with the moon and stars and deep blue sea,
A part of creation is hidden within
we're brothers and sisters under the skin.

Beautiful stardust, part of our soul
spiritually connected to the universe whole,
We're here for a reason, we're part of a plan
created by the Master for woman and man.

The journey's not over, there's more steps to take
stay on course for humanities sake,
Learn how to love and how to forgive
release the past and begin to live.

When my life on earth begins to fade
I want to know my mark is made,
I'll use my time, do all I can
to follow the path the Creator began.

On the day I die, set me free
scatter my ashes over the sea,
Soaring free I long to be
riding the wind for eternity.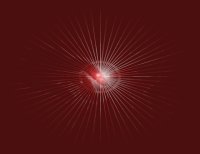 Author ~ © JackiePA 2001
Used with permission
Read more of Jackie's poetry Here