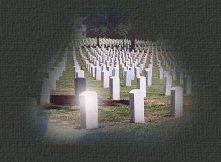 The Final Journey
Flag draped caskets line the plane
Brave soldiers who carried the flame,
The ultimate sacrifice is what they gave
Their final journey is to the grave.
Goodbyes are always hard to make
How many hearts are ready to break,
How many soldiers have to die
Dear God, I ask, why, oh why?

Bravely they marched on foreign soil
Carried guns and willingly toiled,
They fought for freedom and to liberate
But they were killed on a fateful date.
Soon they'll journey through the skies
Families await, communities cry,
They'd want to return to their roots
Brave soldiers, your country salutes.
© JackiePA
April 23, 2004 Used with permission
Read more of Jackie's poetry Here